Tip 1. Find out what their favorite Pokemon Character is
There are hundreds of these collectible pokemon in the animated TV show and video games; the most popular one is Pikachu, so you'll be more likely to find party supplies with it. 
However, suppose the birthday kid's favorite Pokemon is Charmander, Squirtle, Piplup, or any other of the 800+ characters. In that case, we recommend making personalized decorations for the party to make it extra special.
Tip 2. Make a list of every Pokemon-themed item you'll need
After you know the number of people attending your party, it's time to set how many cups, plates, napkins, candy bags, balloons, and banners you need. Once you're ready, you can either print a bunch of images and start DIYing, contact a particular vendor, or do a little bit of both.
Let Wepah be your ally during your party planning process; we work with only the best vendors in Miami and New York. Contact us with your idea, and we'll be happy to send you a short proposal and a list of the best vendors for your event.
Pokemon Party Decoration Inspiration
Wepah's latest Pokemon Party was a huge success among the birthday boy's friends. The decoration included a personalized balloon with his name, a candy table with all things pokemon, and Pokeball-inspired goody bags.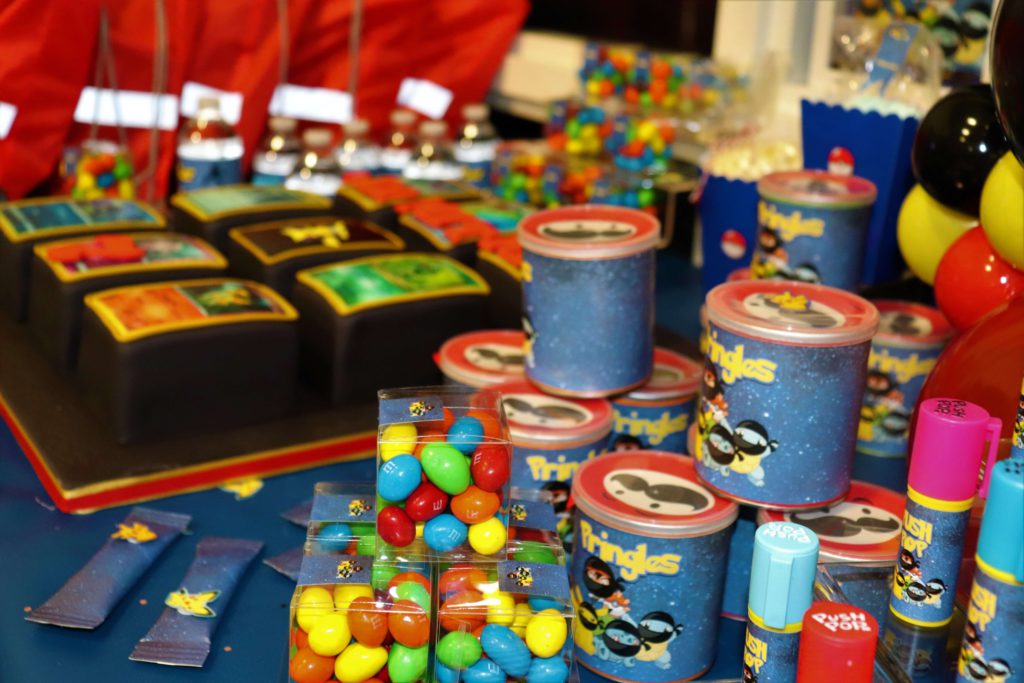 The key to pokemon party decor is to set three main colors such as red, black, white (from the Pokeball), or yellow, red and black (from Pikachu). If your kid's favorite Pokemon is not Pikachu, you can opt for their selected character's colors.
Once your color scheme is set, you can combine graphic elements with solid color decoration elements. This will make your tables, booths, and the whole venue look put together. 
Tip 3. Organize a special menu for the party
Not everything from the snacks to the dessert has to be pokemon-themed, but adding a few elements like Pokepringles or Pokepops could be great ideas! For Dimitri's birthday, Wepah assembled a candy stop with everything from water bottles to Push Pops lined in Pokepaper.
Pokemon Birthday Party Cake
Of course, the one thing that we can't skip is the Pokemon cake! Check out the one we did for our latest party; it resembles a deck of pokemon cards!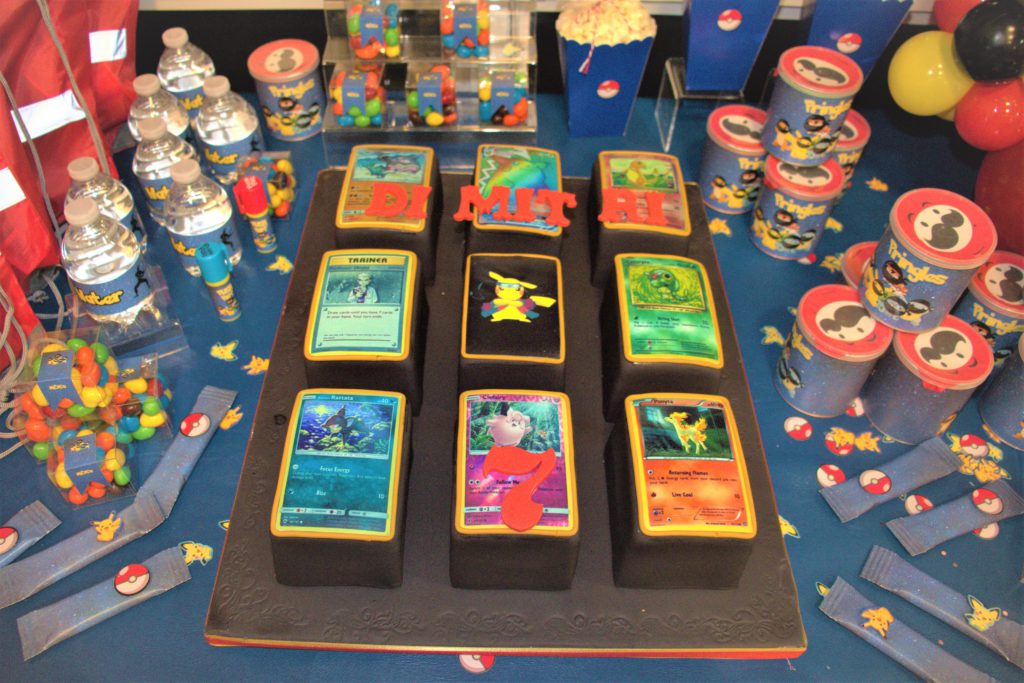 Tip 4. Plan some fun activities for the guests
After deciding whether your venue will be indoors or outdoors, you can start planning how to entertain the guests; the best way to do so is with some unique games and activities. 
Pokemon Party Game Ideas
The great thing about Pokemon is that you can adequate any typical party game into a pokemon-themed activity. For example, you can easily switch "Put the tail on the donkey" to "Put the tail on the Charizard." Here are a few examples for you to use as inspiration during your outdoors party:
Egg-And-Spoon Race as "PokeRace"
Add a PokeTwist to this classic game by switching the egg for a Pokeball. You can achieve this by painting the egg's top half red and adding a black stripe in the middle. A less messy way of doing this is replacing the egg for practice golf balls. 😉
Three-legged Race as "Doduo Marathon"
Doduo is a two-headed pokemon which makes it perfect to be the inspiration behind this typical outdoor game's twist. The guests will pick a partner and tie their legs together; then, they'll compete for a special prize.
Egg Hunt as "Real-Life Pokemon Go"
In the popular app, you can go to a Pokestop to get Pokeballs. A fun way to translate this to a game is hiding candy in sphere-shaped containers and hiding them throughout the venue.
Tip 5. Gotta Catch them All!
Once you have the guest list, venue, decoration, food, and activities covered, you don't have to stop there. When it comes to party planning, the sky is the limit. Would you like to have a costumed character show? Or a 20-feet-tall balloon arrangement? Wepah will make sure to contact the top vendors to make your kid's dream party come true. 
Always remember to Plan, Shop, and Party Wepah style!